This can happen to you once in a lifetime !!!
+ You're 100% Protected By Our 60 Day Money Back Guarantee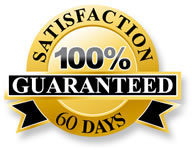 If you are not satisfied with it in anyway whatsoever just write to us within 60 days of purchasing and let us know. We will issue a prompt refund. No hassles, no questions, no if's and but's.
While all attempts have been made to verify information provided in our website and publication, neither the merchant nor the author assumes any responsibility for errors, omissions or contrary interpretation of the subject matter herein. All products presented here are strictly for informational purposes only. Some home alteration alternatives may be illegal in your town, city, state, province or country. It is your responsibility to inquire with your local authority about how to proceed if restrictions apply. Although we have not encountered a problem, you still must consult with your local authority.
Wait!!! Don't Leave Yet!!!
You can be part of the lucky patriots...